I'm not such a big fan of Bak Kut Teh or BKT. I'm a mini BKT myself so.... not big lover...
This place is easy to go... just across the highway opposite Bukit Raja Jusco...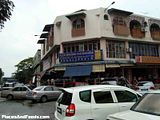 One thing about BKT is you must drink tea... the smaller the pot the better...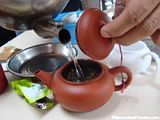 So for the appetizer, we should have something light like the vege...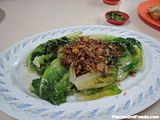 Then, before I snapped the picture, you can see the fork already flying in to the bowl...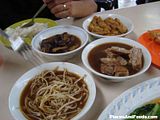 Some might say Bak Kut Teh is BKT... but to me, the soup is important... thick but smooth... Here they served good BKT. I ordered ribs, meats but no "internals". The feast cost me around RM 50-60. Well, to be frank that was my first time eating BKT in Klang in my whole life.
Address:
32, Jalan Batai Laut 5, Kaw. 16
Taman Intan, 41300 Klang
Selangor.
Tel: +603-33445196